The 'Solid Rock Blues Band'
— A guitar player and singer from the Netherlands, Rudy has all the chops and lyrical talent to tell a compelling story.
Drooble (Album review), April 24, 2018
Songwriting and recordings inspired by Blues, Rock, Independent music, Folk-Rock and Christian Rock from the LoftStudio, the Netherlands!
The Solid Rock Blues Band, previously known as Barking Aunts, is a solo music project that started in 2000. It's a studio-band, with help of family and friends.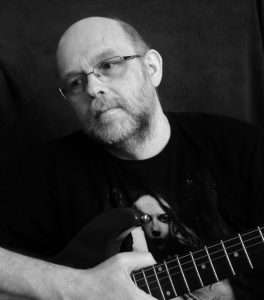 Solid Rock Blues Band
The Solid Rock Blues Band is a music project that started in 2000, when I started recording at home. It is a Home recording studio project for several musicians and songwriters but mainly for Rudy aka The Solid Rock Blues Band project (previously known as the Barking Aunts project and before that as YAOMB, meaning: Yet Another One Man Band).
I do a lot of co-writing with others, and record demo's for and with other artists and bands in my Home Recording Studio (LoftStudio).
Band/artist history
I started playing guitar at age 16. After a few years I more or less stopped playing on a regular basis. In 2000, I got back to playing guitar on a more regular base and also started recording using a computer. Over the years I've played rhythmguitar in several bands and also play in a band in a local baptist church about once a month.
Solid Rock Blues Band on the Web

Recent Albums & Youtube Videos
The full back catalogue is available at Bandcamp https://barkingaunts.bandcamp.com/
Special Kind of Cruel

Stone Blind

Music Video
More video's at the Solid Rock Blues Band Youtube channel
Thoughts & Prayers Ft. Jay Hud
Don't Say We're Over
Slow bluesrocksong, lovesick, broken heart. Male vocals. Heavy Gretsch guitars. Don't Say We're Over.. when there's still a change. Available for download at BandCamp.
Your Life On Facebook
From the album "Solar Powered Love", this was the first single released. The song, as you might have guessed, is about social media. The album is available at BandCamp and Reverbnation.